Meet Laurie
Traditional Astrologer
Laurie Naughtin brings her sensitivity, rich life experience and extensive knowledge to every client with whom she consults, combining both a medical and metaphysical past with her astrological talents. Qualified in Modern, Medieval and the Craft of Horary, Laurie is an eternal student, currently focusing on the Tradition.
Laurie started her studies in 1998 coinciding with her Uranus opposition, a brilliant time for any Astrologer. She started practicing in 2004, launched Sublunar Astrology Academy in 2006.
Laurie is the founder of Sublunar Academy of Astrology where beginners, traditional and modern astrology, advanced astrology skills, rectification and internationally accredited horary courses are offered.
Laurie started her studies with Anita Noyes-Smith, Medieval with Robert Zoller, advanced astrological studies including time rectification and relocation with Jeanette Martins, Horary with Jacqueline Brook and completed her Consulting skills course with ISAR in 2012.
Laurie has qualified through Christopher Warnock Renaissance Astrology in both Traditional Magic and Election Astrology courses. She is the founder and owner of Sublunar Astrology and President of Astrology South Africa.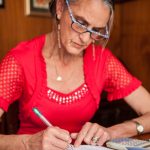 I have been a student of the Tarot for most of my life, but it was only when I studied with Laurie at Sublunar, that I can say I truly understood it. She gave me the confidence and understanding to start my business, Zodiac Tarot. www.zodiactarot.co.za
Went to Laurie as a non believer, came away gobsmacked! Awesome Astrologer! www.photogonewild.co.za
A student of astrology for a few years now, I find Laurie's classes informative, deep, transformational, interesting, creative, entertaining and practically applicable in the world. She is an asset to Astrology.
Laurie did a horary reading for me that was very accurate. It helped me to understand my situation better and to deal with it calmly and in a practical way. www.lexsalubre.com
I highly recommend Laurie's astrological readings. She delves into both current and predictive areas of concerns with profound accuracy. Her ability to penetrate issues and offer solutions is an added advantage. bluesilver48@gmail.com
Laurie Naughtin has guided me through the mine field of career changes. Helped me make sound financial decisions. Deal with life-changing events. And when I want a quick answer about anything from health to love, travel to investment, Laurie does a Horary for me – and voilá I have my answer.